"Not about the Money!"
November 11, 2006
Johnny Brooks from Gilbert, S.C., is scheduled to fight Jaidon Codrington from Queens N.Y. on November 14, 2006. Johnny has been training with his uncle Jose' Molina since day one. Jaidon is managed by Chris Gotti. Jaidon is ranked #62 in the world.

Billy Stanick spoke to Jose' and Johnny this morning, Johnny said that this fight is "Not about the Money!" Johnny knows that Jaidon is a good fighter and it's about Pride. He's is going to win! Jose' also stated that he is excited about this fight. He also states that Johnny is in the best shape that he has seen Johnny in. Jose says that this is going to be a fight because Johnny has a great mental attitude on this one.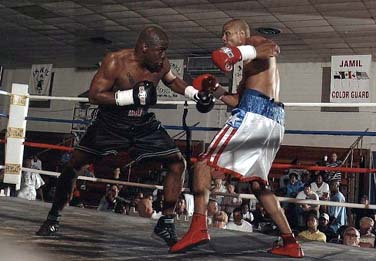 The promoter for this fight is DiBella Entertainment. This fight will be held in the Grand Ballroom in New York, N.Y. You can view the fight card by visiting the web site of www.boxrec.com.

Jose' and Johnny are leaving from Columbia Airport on Sunday morning. They have a good crowd of fans that are going to watch Johnny Brooks box. Billy Stanick and White Rock Boxing wish them Good Luck.