Great Night of Boxing In Eutamville
Written by Billy Stanick

Whiterock Boxing attended the Senior State Tournament in Eutawville South Carolina hosted by FML Boxing and Dexter Ladsen. There were twelve exciting bouts and a great crowd to boot. Danny Powell and Brandon Storey from Whiterock trained by Mike English were both victorious in there first amateur competition.
The hard work and great training by Coach Mike English was evident as both fighters won in spectacular style by stopping their opponents in the early rounds. Amateur boxing trainers and volunteers are a special and dedicated group of people that work hard to prepare these young men and women and it shows when they compete for boxing fans. It was nice to see old friends that I have known for years at the show, Marge and Charlie Hammond, Noah and Joanne Newman, and Billy and Mrs. Sharpe to name a few.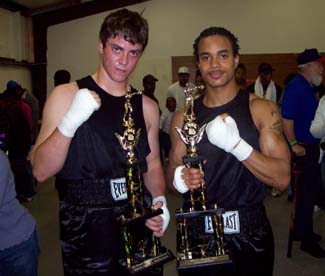 These people define amateur boxing and have kept amateur boxing going in S.C. We thank you. We would also like to thank Andrew Stokes of Palmetto Boxing and Mike English of Whiterock Boxing for their participation. Mike was very proud of his two boxers tonight and stated he was ready to produce more champions. Mike trained 3 time State Silver Gloves champion Allen "Hard Rock" Payne, 2 time S.C. Golden Gloves Champion and 2 Time S.C. Senior Champion Danny Easterling, S.C. Golden Gloves and S.C. Senior Champion Moultrie Witherspoon. Mike is currently training the now pro undefeated (8-0) Witherspoon.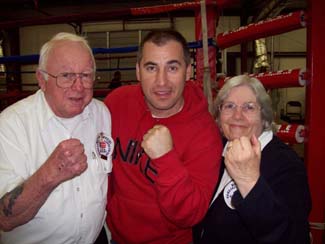 Billy Stanick filmed some of the bouts. He has made copies and and will give you a free copy upon request. You can contact Mr. Stanick by calling (803) 798-2266. The fights that were filmed were Alton Flores -vs- Dominic Desanto, Jared Robinson –vs- Michael Whittaker, Alonzo Johnson –vs- Cameron L. Hoston, Brandon Storey –vs- Cameron Hankok. There were 5 boxers that advanced to the Southeast Coast Senior Regional Championship. Jared Robinson (Sumter), Coy Lambert (Lonnie's), Tim Andrews ( Sumter), Alanzo Johnson (Hurricane) and Alanzo Lumpkin (Rockhill)Congratulations!