USA Boxing to Host the Inaugural Junior World Team Open, January 7-11 at the Grand Sierra Resort in Reno, Nevada
by Julie Goldsticker
January 4, 2013
USA Boxing will hold the first-ever Junior World Team Open, January 7-11 at the Grand Sierra Resort in Reno, Nev. The event will showcase many of the nationís top 15 and 16-year-old boxers as the male competitors vie for the opportunity to represent the United States at the 2013 AIBA Junior Menís World Championships in August.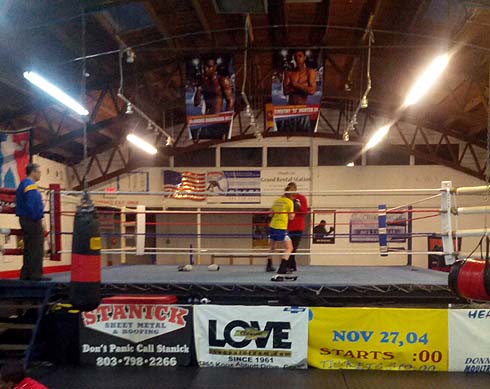 Anna Crutchfield training at the White Rock Boxing Gym
Tournament action is scheduled to begin with preliminary round action on Monday, January 7 with each session starting nightly at 6 p.m. at the Sierra State Pavilion at the Grand Sierra Resort. Quarterfinal competition will take place on Wednesday, January 9 and semifinal round action will be contested on Thursday, January 10. The finalists will compete in championship night action on Friday, January 11.

The current list of registered athletes can be found below, but boxers will be able to enter the tournament through January 6 and a final list of participants will be released on January 7. The Junior World Team Open is an open tournament available to male and female boxers born in 1997 and 1998 with at least five contested bouts of experience.

The Junior World Team Open will be streamed live via Watch Me Sports and can be viewed on the USA Boxing website at www.teamusa.org/USA-Boxing/Watch-Live. The full tournament stream can be purchased for only $14.95 online.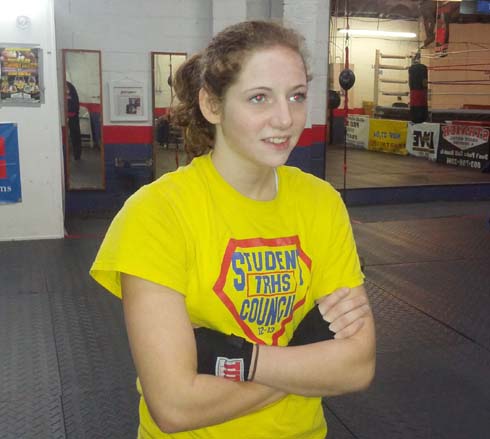 Anna prepares to fight in Reno!
The newly created tournament will be provide a new competition opportunity for USA Boxingís younger athletes who often go on to represent the United States in key international events, including the World Championships, Pan American Games and Olympic Games upon entering the open division. As there is not an AIBA Junior Women World Championships in 2013, the female winners of the Junior World Team Open will not advance to international competition.
Female

101 lbs
Caitlin Orosco, Anaheim, Calif.

110 lbs
Nysja Barrientes, Las Vegas, Nev.
Ashley Perez, Sparks, Nev.

119 lbs
Jessica Galvrez, Sparks, Nev.

125 lbs
Anna Crutchfield, Travelers Rest, S.C.
JaJaira Gonzalez, Glendora, Calif.

132 lbs
Iesha Kenney, Alexandria, Va.

2013 World Team Op -Male

101 lbs
Jordan White, Waldorf, Md.
Slade Corvin, Chattanooga, Tenn.
Jose Cora, Abilene, Texas
Szel Martinez, Ontario, Ore.

106 lbs
Kristopher Alcos, Lihue, Hawaii
Saul Sanchez, N. Hollywood, Calif.
Leonel Tijerina, La Blanca, Texas
Neketa Ababiy, Brooklyn, N.Y.
Isaac Perez, Albuquerque, N.M.
Kevin Montano, Concord, Calif.
Adrian Servin, Phoenix, Ariz.
Daniel Gonzalez, Moreno Valley, Calif.
Izaiah Bautista, Hercules, Calif.

110 lbs

Timothy Longoria, Palacios, Texas
Evan Sanchez, Fresno, Calif.

114 lbs
Gustavo Hernandez, Los Angeles, Calif.
Jacob Ponce, Phoenix, Ariz.
Keeshawn Williams, Washington, D.C.
Ryan Garcia, Adelanto, Calif.
Daniel Silva, Sparks, Nev.
Shakur Stevenson, Newark, N.J.
Joseph Cuellar, Tulare, Calif.
Bryan Lua, Madera, Calif.
Isidro Ochoa, Fresno, Calif.

119 lbs
Andrew Weaver, Zanesville, Ohio
Dominic Serna, Indio, Calif.
James Hernandez, Fort Worth, Texas
Adolfo Alanis, Edinburg, Texas
Gonzalo Rodriguez, Edinburg, Texas
Druntay Miller, Houston, Texas
Enrique Manrajos, Ontario, Ore.
Troy Isley, Alexandria, Va.
Adan Ochoa, Compton, Calif.
Noah Contreras, Ft. Mohave, Ariz.
Humberto Guilen, Jr., Reno, Nev.
Alex Rodriguez, Sparks, Nev.
Uriel Sanchez, Santa Rosa, Calif.

125 lbs
Keoni Ardic, Jr., Haleiwe, Hawaii
Michael Nelson, Mansfield, Ohio
Garrett Rincon, Irvine, Calif.
Arturo Santana, Cucamonga, Calif.
Brandon Vega, Cleveland, Ohio
Gabriel Chairez, Salt Lake City, Utah
Mario Martinez, Sparks, Nev.
Damien Munoz, Carson City, Nev.
Xavier Martinez, Sacramento, Calif.

132 lbs
Cortez Chambliss, Livonia, Mich.
Sebastian Fundora, Tampa, Fla.
Jonathan Jarabek, Brighton, Colo.
Joseph Rivera, Houston, Texas
Jose Guevara, Phoenix, Ariz.
Richardson Jacques, Brooklyn, N.Y.

138 lbs
Hunter-Gabriel Manaba, Kaunakakas, Hawaii
Ruben Torres, Whittier, Calif.
Mykquan Williams, E. Hartford, Conn.
Brandon Trejo, Napa, Calif.
Christopher Gonzalez, Tucson, Ariz.

145 lbs
Javier Estrada, Palmdale, Calif.
John Harris III, Deer Park, N.Y.

154 lbs
Alexis Rocha, Santa Ana, Calif.
Jose Burgos, Jr., Johnson City, Tenn.
Jake Baca, Pueblo, Colo.
Edgar Berlanga, Brooklyn, N.Y.
Christopher Gann, St. Joseph, Mo.

165 lbs
Akeem Mayle, Zanesville, Ohio

176 lbs
Matthew Hernandez, San Antonio, Texas
Alejandro Larrondo, Prescott, Ariz.
Mario Hernandez, Sparks, Nev.

176+ lbs
Ricky Pina, Dorchester, Mass.
Suray Mahmutord, Daly City, Calif.
Pano Tiatia, St. George, Utah

USA Boxing, as the national governing body for Olympic-style boxing, is the United Statesí member organization of the International Amateur Boxing Association (AIBA) and a member of the United States Olympic Committee (USOC).