FILMING WHITE ROCK BOXING
By Laura P. Valtorta
May 31, 2013

I spent a lot of time from March 2012 through April 2013 filming a documentary about White Rock Boxing gym, and all of it was good time. The major reason for this great experience is the people in the film -- Billy Stanick the owner of the gym, the boxers, and the trainers. All of them were inspiring.

What drew me to make White Rock Boxing was the atmosphere at the Golden Gloves matches and the professional matches. It was a friendly atmosphere with plenty of excellent people-watching. Always something going on. Always too loud. Everyone was relaxed and shouting.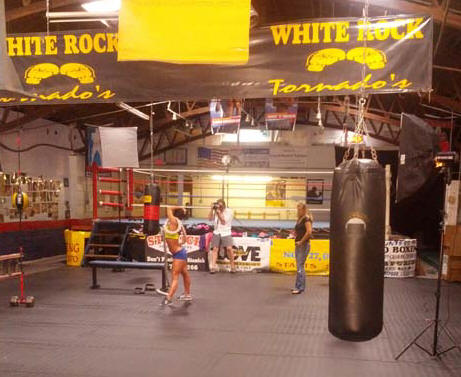 Whenever Mr. Stanick walked around, sometimes wearing an orange shirt, I knew there was something special about him. Something charismatic. He was a person who enjoyed life and promoted boxing. He was a person who was pleasant with everyone, even me. When I approached Andrew Stokes, the promoter, and Mr. Stanick about making the movie, they were very friendly. They never asked me where I was from. I liked boxing, and that was it. I was in.

Genesis Studios in Cayce has been instrumental in making this film. I am the Executive Producer, but Cliff Springs, the owner of Genesis, is the director. Without Cliff and his professional staff, this film could not have been made.
I hope that White Rock Boxing serves to praise South Carolina and its boxing community -- a group of warm, interesting people who welcome every fan.

White Rock Boxing recently won Honorable Mention at the Sunset Film Festival in Los Angeles. We expect to be shown on South Carolina ETV sometime this fall, possibly August. On September 23, 2013 at 7 p.m. there will be a free screening at the USC Russell House.


Laura P. Valtorta
Attorney at Law
903 Calhoun Street
Columbia, SC 29201