Billy Stanick was born and raised in Columbia, South Carolina, by his grandmother Cora Scali of Columbia, SC. She has been a great inspiration in his life. Billy attended and graduated from Columbia High School in 1960.

Billy met and married the "lovely" Linda Mayhew, 44 years ago. She works with one of his best friends, Lt. Governor Andre Bauer of S.C.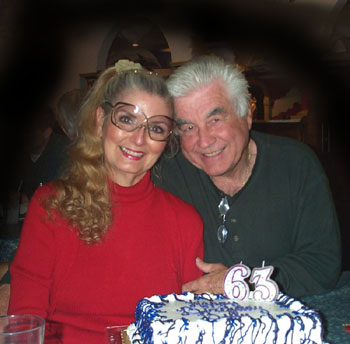 Billy has two children, son, Billy Stanick Jr., who is a General Contractor, and daughter, LaJuana Stanick Sturkie - Son-in-law Matt Sturkie - Owners of KMS Masonary. Billy also has two grandchildren, Zachary Sturkie, age 14, and Chandler Sturkie, 12.

| | | | | |
| --- | --- | --- | --- | --- |
| | Billy poses with Billy Jr. | LaJuana and Billy | | |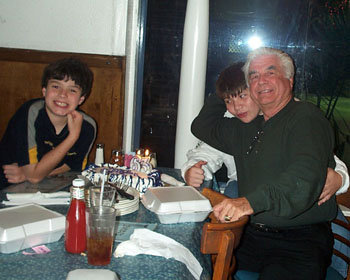 Billy Sr. loves to watch his grandson (Zachery) wrestle on Dutch Fork Elementary Wrestling Team. Zach came in 4th in state in heavy weight division 2005. Chandler is on the basketball and soccer team and Billy loves watching his events also. He also plays flag football.

Billy has owned and operated Stanick Sheet Metal and Roofing for 34 years. See www.stanickroofing.com for more information on what we do here at Stanick.

Billy has been involved in many aspects of boxing - Training, managing as well promoting. A few fighters that Billy has managed, trained, and promoted are:

Mike English - SC Golden Glove Champion and SC Southern Golden glove Finalist, Pro boxing was 15 wins and 4 losses with Billy.

Monk Conners - SC Golden Glove Champion and SC AAU Champion and he was in the National Golden Glove Finals in Taledo, Ohio. He was also the Southern Golden Glove Champion 1981 - And fought in the National AAU finals in Ohio in 1981.

Jerry Bell - 3 time SC Tough Man Heavy Weight Champion, fought in the Toughest man in the world in Ashville, NC in 1995 on Art Dore Promotions. 9 wins and 0 losses as a Pro, all 9 by knockouts.
Stanley Hughey - 1978 SC Golden Glove Champion and Southern Golden Golden Finals. He loss to Clint Jackson won the Nationals and fought in Olympics the same year Sugar Ray Leonard won in the Olympics.
Clint Jackson -Pan American Welterweight Champion in 1975 and Bronze metal in 1976 Olympics.

Now Billy, not only runs Stanick Sheet Metal full time, but finds time to spend with his other loves, which include watching Mike English train young Amateur Boxers at White Rock, taking Moultrie Witherspoon to Pro shows and filming his fights. He is always on the go with his grandsons watching all their sporting events as well. This all for a man that is 64 years old and is a Cancer survivor as well. Billy is thankful for his health which allows him to participate in all the many activities of his grandsons and his many friends.

He also enjoys being in Parades with Lt. Governor Andrea Bauer - Some of theses parades are the Gilbert Peach Festival, Chapin Labor Day Parade, and the Irmo Ocra Strut.