Photographs and more....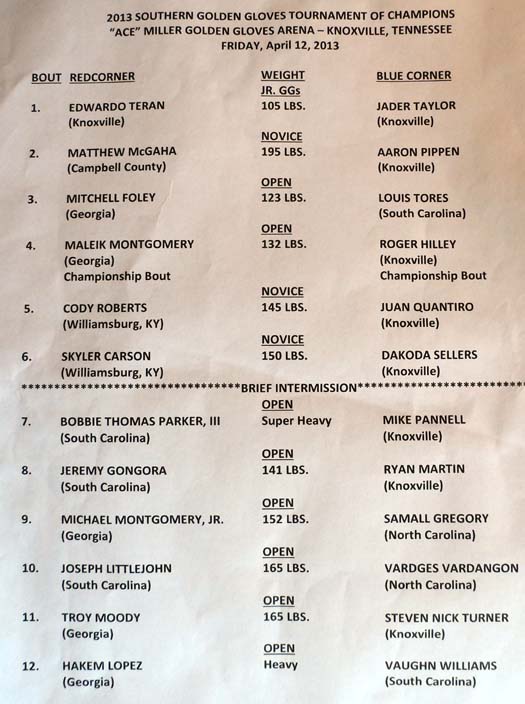 Individual and Team Photos
Miscellaneous Photos

Bobby Parker

Bobby Parker Sr - Billy Stanick - Jeremy Gongora.

Jeremy Gongora - 141 lb SC Golden Glove
Champion




Bobby and the "Silverback" Corey Lampley

Coach Bobby wrapping Jeremy's hands

Jeremy Gongora delivering a devastating left hook to the body!
Blog notes for photos and other activity:
Wednesday April 10th, our South Carolina Golden Gloves Champions Bobby Parker, Jeremy Gongora, Joseph Littlejohn, Vaughn Williams and Luis Torres along with Coach Bobby Parker Sr. and Coach Tuck Swanger have arrived at the Golden Glove Arena in Knoxville TN for general weigh ins. Each champion has weighed in within their respectful weight classes. Bobby Parker (201+ class) Jeremy Gongora (141 class) Joseph Littlejohn (165 class) Vaughn Williams (195 class) and Luis Torres (123 class) Wednesday evening after all boxers from across the southern region have completed weigh ins there will be a "draw" to decided when each boxer will compete. Competition days are Thursday, Friday and Saturday this competition is a process of elimination. All of our champions are more than ready and very excited to compete for the elite spots on the Southern Regional Golden Gloves Team that advances to National Golden Gloves in Salt Lake City, Utah in May. The Golden Gloves program has led the way in promoting amateur boxing in the United States and has produced the majority of competitors for America's boxing teams in the Pan-Am and Olympic Games.
(April 12) Bobby Parker fought last night and won over Mike Panel the Tennessee Golden Glove Champion. Mike Panel is 30 years old and fought since he was 12 years old. Bobby will be fighting again tonight (April 13). Bobby is 18 years old 6'-5" -- 252 lbs.